The Battery Management System (not to be confused with building management system)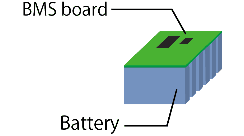 BMS performs different functions:
when any cell of the battery pack exceeds the initial balancing voltage, the BMS redistributes the excess charge between the various cells (active balancing) or using special resistors (passive balancing).
Battery state estimation: The state of charge (SOC) and health status (SOH) of the battery is estimated based on voltage and current values.
Detection of any malfunctions: voltage measurement to check for overloads in charge or discharge; resistance measurement to detect faults in connections; temperature monitoring; Real-time diagnosis of battery pack isolation loss.
These functions of the BMS allow you to extend the life of the battery, so it is important to be able to verify its correct functioning.